The Most Affordable Playground Surfaces in 2023 (with Photos)
Safety should be the top priority when designing playgrounds. And while most playground injuries happen due to falls, playground surfacing plays a critical role in this respect. Playground surfacing materials should effectively cushion falls and provide proper impact absorption to prevent serious injuries.
Playground surfacing comes in a variety of types and has a broad price range. Still, a lower price doesn't always mean that the playground surface is budget-friendly — it can require regular maintenance or replenishment, resulting in higher costs in the long run. On the other hand, some playground surfaces are more expensive to install but are long-lasting and require minimum upkeep efforts.
Long story short, here's a list of the most affordable playground surfacing options to help you make a more informed choice.
The most affordable playground surfacing materials
Before we go any further, it's crucial to mention that playground surfaces fall into two major types: loose-fill and unitary.
Loose-fill surfacing is made up of multiple small components, for instance, engineered wood fiber, sand, or rubber mulch. This is generally affordable playground surfacing that provides excellent shock-absorbing properties. However, by choosing a loose-fill option, you should be ready for regular upkeep to maintain the surface at a safe depth.
On the contrary, unitary playground surfacing looks like a smooth surface. The most common examples of unitary playground surfacing include synthetic turf, rubber tiles, or poured material such as rubber or concrete. Unitary surfaces are truly inclusive since they allow people using mobility equipment to move safely and comfortably around a playground. Despite the relatively higher initial cost, unitary surfaces are usually low-maintenance, making them affordable options.
Let's explore some of the most affordable playground surface types.
1. Poured-in-place rubber (PIP)
If you're looking for long-term cost-efficiency and don't mind spending more on installation to avoid costly maintenance, consider poured-in-place rubber for a playground surface. Poured-in-place rubber surfaces consist of two layers: the base layer of shredded rubber and the topcoat, which are poured-in-place on-site and cured to ensure a perfectly smooth, safe playground surface.
Poured-in-place rubber provides excellent fall cushioning and makes playgrounds easily accessible to children on mobility devices or with walking difficulties. Moreover, this material is highly customizable — it comes in various colors and allows for creating unique designs on the surface.
Again, while poured rubber may be costlier than other options, it requires virtually zero maintenance, making it an affordable playground surface.
2. Engineered wood fiber (EWF)
Engineered wood fiber, or EWF, is a type of playground surfacing made of manufactured wood pieces. Unlike wooden chips, EWF doesn't contain bark or twigs and is processed to make it softer. It's an eco-friendly, affordable playground surface, making it a popular choice with playground designers.
Still, there are a few things to keep in mind if you decide on engineered wood fiber surfacing for your playground. Firstly, to maintain the safe thickness of the EWF layer, you'll need to refill it regularly. In addition, wooden pieces don't stay in place, especially under playground equipment such as swings and slides, meaning that you'll need to take care that they're raked in place when needed. Lastly, this material is not as easily accessible as poured rubber and requires extra effort to keep a playground ADA-compliant.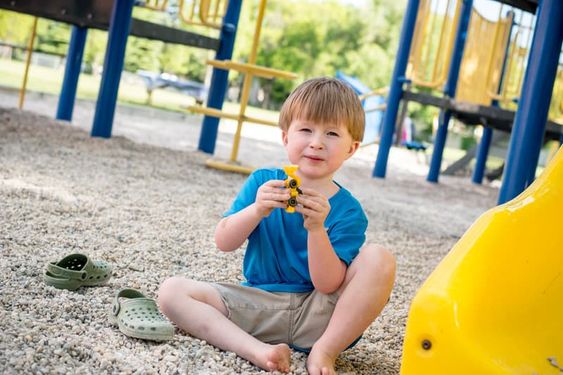 Pea gravel consists of smooth stones ranging from ⅛ to ⅜ inch in diameter, typically found near water. Pea gravel exists in many natural colors, from white and shades of gray to brown. It's an eco-friendly, cheap material for playground surfacing.
Pea gravel does a great job absorbing falls when maintained at a depth of no less than 12 inches. One of the best things about this surfacing is that it doesn't support the growth of germs and doesn't bring any synthetic dyes to the playground. Moreover, pea gravel boasts excellent drainage properties, keeping playgrounds free of puddles. 
However, like other loose-fill materials, pea gravel tends to move from place, calling for extra upkeep.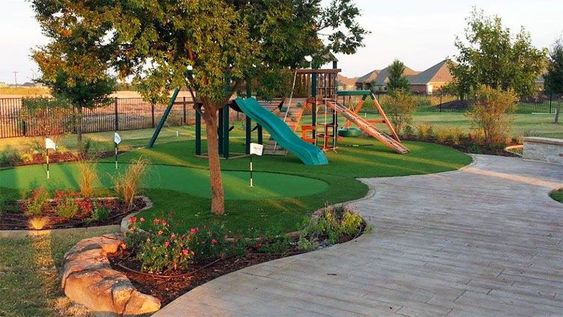 Synthetic turf, or artificial grass, is a type of unitary surfacing made of synthetic, grass-like fibers that resemble natural grass, a popular choice for outdoor and indoor playgrounds. Polyethylene and polypropylene are the most common materials used for producing synthetic turf. Multiple layers of synthetic fibers provide proper fall cushioning.
Synthetic turf surfacing is a great alternative to natural grass. It's much more affordable to install and maintain than the real grass — artificial turf doesn't require mowing, watering, or pesticides. In addition, it's allergy-friendly and free of insects.
On the downside, artificial turf tends to quickly absorb heat and get significantly hotter in direct sunlight, making such a playground uncomfortable to use in the hot months.
While artificial turf is more expensive than loose-fill surfacing options, it doesn't require much upkeep, making it a more budget-friendly option in the long run.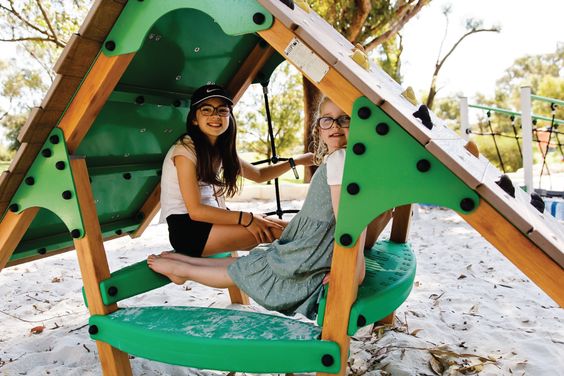 Sand is a natural, inexpensive material that provides proper impact absorption if the correct depth is maintained.
This option has a lower initial cost than any other type of surfacing on our list; however, it has more downsides. For starters, sand is extremely high-maintenance since it calls for frequent raking and replenishment. Next, it isn't ADA-compliant, meaning such a playground is inaccessible to people who use mobility devices. To top it off, sand attracts animal waste and insects and can conceal hazardous objects.
So what is the most affordable playground surface?
As already mentioned, affordability doesn't always mean low upfront costs. If we take into account the cost of installation only, sand and engineered wood fiber are indisputable winners. However, these options can turn out costlier in the long run since they require regular refills and routine maintenance.
On the other side, if you focus on long-term cost-effectiveness, poured-in-place rubber is a wise choice. While it's less affordable than other options at first sight, by choosing poured rubber, you can forget about the costly upkeep and refills for years.
How to choose the best surfacing material for playground — Safestep recommendations
Now that you know all the ins and outs of the most affordable playground surfaces, there are still some aspects to consider when choosing the surface material for your playground:
The height of your playground equipment — different surfaces come with different elevated impact attenuation

ADA compliance

Maintenance — before making your final decision, make sure you'll be able to afford regular upkeep for surfaces that require it

Design to match the overall style of your playground
Which playground surfacing material needs minimum maintenance?
Beyond looking exceptionally beautiful, wood surfaces are relatively slip-resistant. They don't get as hot as other materials like concrete or brick.
So what patio material should you choose for your pool deck?