8 Tips How To Turn Your Garage Into A Gym
Every person who wants to keep fit sooner or later gets tired of spending a lot of time getting to the gym and then getting back home. You are already tired after work and now need to bother about how to commute. It makes it even worse if we think of how many of us work from home.
No worries! Buckle up! As there is a simple solution to this challenge. Having a basement, or even better, having a garage, can ensure the most comfortable conditions to work out at home. Therefore, if you have such an opportunity, it will simplify and save money and time that will be spent when paying for gym services, as most garages can become your dream home gyms.
In this article, we are going to present you with some crucial tips on how to turn this experience into an exciting journey! Sit comfortably and get ready to find out how to turn your garage into a gym.
First of all, you need to clear up your garage. Because cleanliness and order will allow you to get rid of the feeling of insecurity, will allow you to feel the influx of vital forces, will increase organization and activity, and improve your psychological mood.
You can decorate your garage to your liking so that you can comfortably work out there and enjoy improving your fitness and spending time with pleasure. All extra things will need to be removed and free up more space for your fitness equipment. If the situation requires, it is better to install sliding gates. Moreover, you will be able to get rid of things that you do not need or that have been damaged.
The correct zoning and organization of your own garage for home gyms are quite suitable for its design and realizing any great idea. Because an essential and comfortable space for your body and health will be created, and this space will contribute to the most comfortable solutions for physical workouts to reach fitness goals.
3. Ensure Proper Insulation
If you are willing to convert your garage into a home gym, it would be necessary to insulate your garage. If there is a need for this, install a hood, arrange windows if they were not there before, and make sure you have proper garage doors. This is necessary from the point of view of fresh air circulation, especially if you do it in the wintertime. Styrofoam and extruded polystyrene will definitely suit you in terms of quality and price. We note that foam is absolutely not afraid of moisture, resistant to mold and rot. However, note that the material burns well. Therefore, for the sake of safety, there should always be a fire extinguisher in the garage. All joints are blown with mounting foam. As a result, your garage is insulated cheaply, quickly, and qualitatively. Of course, to give the interior or the facade a more aesthetic look, the foam walls need to be plastered and painted.
4. Install Durable Flooring
After understanding which equipment is suitable for you, you need to install a solid floor if your garage requires it, as in the future, exercising and loads will be on your feet. A shock-absorbing floor such as carpet tiles, rubber, or epoxy will reduce the stress on joints and muscles.
Speaking about poured rubber flooring, you can be sure that it will be durable, easy to maintain and clean, and non-slippery. This flooring will serve you in the long run.
In addition to the fact that you will train, you should not ignore the fact that your body will sweat and the body will heat up, so it is important to drink water during training. Therefore, you should find a place for water if you use bulky equipment, or you should prepare a flask with water.
As water contributes to the delivery of nutrients to every cell in the body, removes toxins, impurities, and excess salts, and lowers blood pressure, you should take measures to prevent heat exhaustion. Therefore, water in the human body is a vital element because we use it throughout our lives.
The use of material for your home gym is crucial to guarantee normal and comfortable temperatures inside and how fast it heats and cools down, especially when you choose a garage for turning this space into a gym.
6. Dont Forget About Lighting
If the day is longer in the summer, the garage will be illuminated by daylight, and there will be no need to invent something and contribute to lighting devices. In the wintertime, lighting will be one of the critical components for perfect training.
Therefore, lighting devices should be carefully selected and installed. They will help prevent possible injuries or unforeseen situations or circumstances. Because bright light makes a person feel cheerful, and energized, behave more energetically, and burn more calories than usual. Moreover, in addition to physical exertion, lighting adds high mental activity.
7. Keep Enough Options for Storage
For a complete understanding, you will need to find and view the equipment that interests you in order to have a complete picture and understand exactly how much space will be required in your garage when you transform it into a gym.
Walls can be in the form of any capacious containers for small items. Add shelves and overhead racks where you can use seasonal sports items. You can install a small cabinet for storing sports nutrition, etc. Wall panels will help in the garage space for storing equipment so that nothing falls under your feet and does not interfere with doing your favorite thing and improving your body.
It will be necessary to use the vertical storage space as much as possible to store certain things such as a bicycle, skis, or perhaps rollers and headgear such as a helmet. 
There are many options for how to store certain items or equipment so that it looks attractive and does not turn your garage and halls into a den. Therefore, it is desirable to make additional shelves where you can store something not too big.
8. Buy The Right Workout Equipment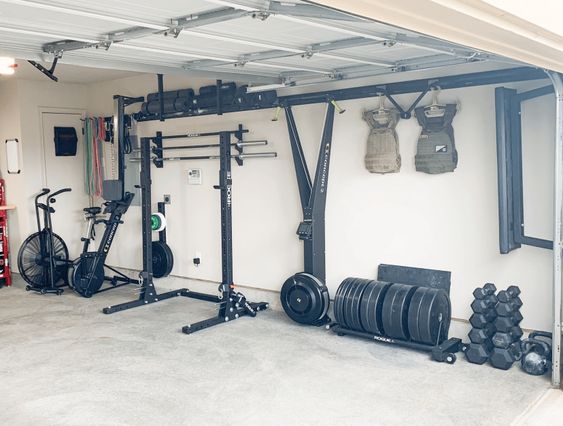 The best and safest equipment will be an essential part of your physical work.
Getting the best at house will only mean more effort and effort to strengthen and improve your body. It is necessary to carefully approach this issue and not take into consideration the prices and not to look for this or that equipment at a lower price, as it may not be as convenient or reliable.
There is a lot of exercise equipment that you still need to research and make sure that it is suitable for its work where it will require your body to improve. Therefore, choose the machines and scales that will suit you and meet your expectations.
There are many guides for buying and creating your garage gym, and you will be able to spend less time if you use social networks or do not once look at the equipment you need. Therefore, you can order it online, and the people who accept this order will bring it themselves and install it if necessary. You will find all the best home gym equipment from all categories, devices, and models at affordable prices and quality. 
You also need to understand what exactly you need in the first place and for what purposes and, of course, from the available space. You're better off getting a weight bench and a set of dumbbells, yoga mats, getting a barbell, and a multi-purpose gym. If you do not prefer cardio but have limited open space and a tight budget, you may want to consider purchasing a compound indoor rowing machine and used equipment.
Have a little more space? Get an indoor stationary bike, treadmill, or elliptical trainer. If the budget allows you and you have enough space in the garage, you will be able to create comfortable conditions for attracting sports. You can also purchase a roller or door handle and a set of resistors. Not every room will seem too small to make your own gym.
Anything and everything is possible to create your own corner and enough room where you can do sports or just keep in shape in the gym that you will develop following the tips on how to turn a garage into a gym. It is not necessary to buy everything at once, as you can take your time to decorate your gym and start with a kettlebell or a jump rope. Of course, if the budget allows, you can do all this in a short period of time and start improving your own body.